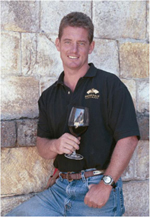 Mike Seitz
1968-2003
I dedicate all future vintages of Brookdale Vineyards Cabernet Sauvignon to my late husband, Mike Seitz, who passed away tragically during the 2003 harvest. It is important to me that you know a little bit about Mike and his passion and drive to make this wine, our dream, come to be. Mike was an extremely talented viticulturist, a wonderful husband and father and he put everything he had into dedicating himself to each of these aspects of his life.
As a viticulturist, Mike worked very hard to create a harmonious relationship with nature. His philosophy was simple but his dedication was enormous. He felt in order to make exceptional wine it is important to keep crop size low, practice sustainable agriculture and always be certain to maintain well-balanced vineyards. From some of the very best vineyards in the Napa Valley, Mike was able to assemble small blocks of exceptional Cabernet Sauvignon grapes and working closely with his good friend and winemaker, Craig MacLean, created this extremely limited production wine. It was Mike's dream to allow his dedication to his work in the vineyards to completely express itself in a bottle of wine.
I am proud to say that Mike lived his life with great passion and accomplished his dream; and in doing so he has given me the strength and courage to carry on Brookdale Vineyards in his memory for many years to come. I feel blessed to have this wine as it provides me with wonderful memories of us pursuing our dreams together and having the good fortune to share it with others.
Kristi Seitz Banducci
Proprietor
Brookdale Vineyards